What is RFID?
Radio Frequency Identification (RFID) is a group of closely related Automatic Data Collection technologies that use wireless radio communications to transmit data.
Transponders (tags, cards, smart labels etc) are encoded with data which can then be used to uniquely identify objects or people.
RFID readers (scanners, interrogators, portals etc) receive the tag data and transfer it to the host system for processing.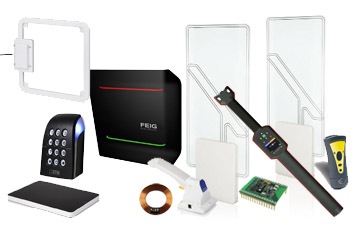 RFID technology families include passive, semi-passive and active RFID, NFC (Near Field Communication), BLE (Bluetooth Low Energy) and  RTLS (Real Time Location Systems) operating in the LF, HF and UHF bands of the radio spectrum.
RFID automates data collection, eliminating human error and overcoming some of the issues associated with alternative technologies such as barcode. Tags can be read through most materials, eliminating the need for line of sight. With read/write transponders the data on the tag can be repeatedly updated, allowing extensive details to be stored on the tagged object. Tag data and communications can be encrypted to enhance security.
Applications
RFID applications are as limitless as your imagination. Common RFID applications include Access Control, Vehicle Identification, Personnel Identification, Animal Identification, Asset Management, Library Systems Automation, Sports Timing, Supply Chain, Logistics, Retail Automation, Electronic Payment, Ticketing and Healthcare. Contact us to discuss your application needs!
Technologies
Rather than a single technology, RFID is in fact a family of complementary technologies with different characteristics. These include Low Frequency (LF) RFID, High Frequency (HF) RFID, Ultra High Frequency (UHF, EPC Gen2 or RAIN) RFID, Near Field Communication (NFC), Bluetooth Low Energy (BLE) and Real-time location systems (RTLS). At Electro-Com we cover the entire spectrum!