Sensors & Controls Applications
Electro-Com are the officially appointed agent for Sensata Sensor and Control products (Formally Texas Instruments Sensor and Controls), including the KLIXON, AIRPAX, Qinex, Sensor-NITE, and Dimension product ranges. We are also a distribution agent for Emicol switches and controls. We stock a wide range of quality electro-mechanical devices, sensors and controls, and components in accordance with our customers diverse set of requirements.
Pressure Sensors & Transducers
Sensata Technologies (formally a division of Texas In-struments) pressure transducers are suitable for the most demanding industrial and HVAC/R applications. We offer a variety of technologies, configurations, and customisations in pressures from 0-15 to 0-30k psi. Such sensors are used in Bettson ->online casino nederland ideal.
Whether in the air, on land, or in the water, we manufacture low-cost, trusted solutions.
Hermetic and non-hermetic offerings
Small size
Suitable in harsh environments
Wide temperature range
Technical assistance available
Customized solutions and special options are available
Sensor Applications:
A/C and refrigeration: compressor cycling, fan cycling, superheat control, TX valve control, diagnostics
Industrial pumps
Process control and automation
Agriculture and construction equipment
Fuel cells
Forklift hydraulics, engines, etc.
Marine engine, fuel oil, etc.
Temperature Sensors
Sensata Technologies develops and manufacturers high quality Airpax™ bimetal thermostats and temperature sensors to protect and monitor your electronics and equipment from overheating and freezing.
Sensata also offers a broad selection of precision Klixon Precision Hermetic Thermostats for all aerospace, satellite, commercial & military aircraft, medical equipment, and HVAC markets. Our Klixon precision thermostats are designed for temperature protection or control in harsh environments.
Airflow sensors
KLIXON solid-state airflow switches are ideal for recognising loss or reduction of airflow in electronic equipment. Typically used in power supplies, data processing equipment, and large electronic cabinets. Unlike its electro-mechanical vane switch predecessor, Sensata's solid-state switch continues to provide reliable switching, even in dirty environments.
Sensor features:
Solid-state design for improved reliability
SPST or SPDT configuration
Normally open or closed
Commercial or military grades available
Low power dissipation (approximately 3 watts)
Excellent shock and vibration resistance
Sensor PERFORMANCE:
Supply voltage: 30 VDC maximum
Switching capacity: up to 400 milliamps
Operating temperature range: +10°C to +50°C
Ambient temperature range: up to 150°C
100,000 life cycle
Weight: approximately 20 grams
Sensor Applications:
Klixon airflow sensors are designed to recognise loss or reduction of airflow in:
Power supplies
Data processing units
Commercial electronic equipment
Military electronic equipment
Approved for:
Military
Aerospace
Commercial customer specifications and source control drawings.
Humidity & gas Sensors
Sensata technologies air quality and humidity sensors provide advanced sensing solutions for tomorrows building automation market. The climate control industry is driven by the need for fast, reliable and affordable sensors for monitoring thermal, gas and humidity levels. These sensors can control the entire atmosphere of a building while creating or maintaining the highest degree of environmental comfort and safety.
Accurate gas detection is what Sensata's air quality sensor is all about. It contains electro-chemical sensing cells that detect unhealthy gases like nitrogen oxides as well as a wide variety of volatile organic compounds which build up smells. In addition, Sensata also offer sensors, which use innovative thin-film technology, to set the standard for automatic temperature and relative humidity control.
Typical applications:
Comfort control in commercial and residential air conditioning units
System optimization of commercial refrigeration and air compressor applications
Safety process equipment (eg. food transportation, processing and storage)
Indoor air quality control
Automotive RFID & Sensors
Electro-com supply Automotive sensors and controls as well as RFID solutions for for the automotive market. The majority of vehicles around the world are protected with an RFID-based anti-theft systems.
Wedge transponders are fitted into the head of a key and used for vehicle immobilisation which has become a standard-setting technology in the auto industry – supplied by trausted brands such as Texas Instruments. In 1993, TI's read-only transponder for vehicle immobilisation was the first such device used, and is still the only read-only transponder accepted by one of the world's leading insurance companies, Allianz. Since then, TI have more than 100 million read-only and encrypted transponders employed in the automotive market, and have seen a 90 percent drop in RFID-equipped auto thefts.
Sensors and Control pressure switches provide low cost controls for many automotive systems. The snap-action disc reacts to changing pressure by reversing its curvature and activating electrical switch contacts.The custom packaging can be used for line or pump mount applications.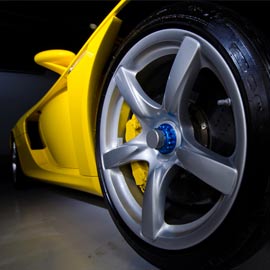 APT (Automotive Pressure Transducer): Low-Cost Pressure Sensing
Electro-Com and Sensata are leading suppliers to the automotive industry.
Compact design allows for local pressure sensing.
Sensor design provides reliability throughout the life of the vehicle.
Durable automotive packaging for under-hood and chassis.
Adaptable to pressure ranges up to 5000 PSI.
Permanent calibration after assembly results in tight tolerances.
Absolute or relative sensing.
APT (Automotive Pressure Transducer): Applications
High-side and/or low-side air conditioning.
Power steering.
Rear wheel steering.
Anti-lock braking / vehicle stability control.
Engine controls: Manifold, fuel, oil, boost, and barometric pressures.
Transmission.
Suspension: Load leveling, anti-roll, active and adaptive suspension.
CAS (Capacitive Acceleration Sensing)
Electro-Com and Sensata are leading suppliers to the automotive industry.
Qualified for under-hood, chassis mount, or automotive interior.
Highly reliable sensor design proven with years of production experience.
Available in ±1g to ±10g ranges.
Permanent calibration after assembly.
Low-cost.
-40° to 85°C operation
CAS (Capacitive Acceleration Sensing): Applications
Traction control systems.
Anti-roll chassis control.
Vehicle stability control.
Anti-lock brake systems.
Semi-active suspension systems
OBDII rough road detection.
Inclination sensing.
MSG (Microfused Silicon Strain Gage): Hermetic Pressure Sensing
Sensing technology is silicon MEMs strain gage elements glass-bonded to a stainless steel diaphragm.
Permanent calibration after assembly.
Temperature compensated.
Adaptable to pressure ranges up to 30,000psi.
Accurate, stable signal over a wide operating temperature range (-40 to +140°C).
Temperature output can be added.
Extensive self-diagnostics
MSG (Microfused Silicon Strain Gage): Applications
Brake pressure.
Diesel common rail.
Occupant weight force sensing.
Vehicle stability systems.
GDI fuel pressure.
Transmission.
PSM (Pressure Switch Manifolds)
Multiple reliable pressure switches in a single assembly to sense hydraulic pressure in automatic transmission.
Direct sensing of fluid pressure.
Compact size to fit between transmission valve body and filter.
Multiple switches in integrated assembly.
Temperature sensing can be incorporated.
Reliable snap-action switch technology.
Position Sensing: Transmission Range Sensors (TRS) and Internal Mode Switches (IMS)
The position sensor may be mounted internal or external to the transmission case and uses sliding contact technology to monitor drive gear selection.
Rotary or linear design.
Insert molded low current circuit improves reliability by eliminating solder joints.
Greater than 150K P-L-P durability cycle capability.
Need for factory adjustment can be calibrated out.
Multi-bit logic level PRNDL output.
Wholly Australian-owned, Electro-Com pride themselves in being knowledge leaders in RFID and sensor technology and its' developments.
Battery protection
Sensata Klixon battery protectors protect people and property from harm. Sensors improve operating performance and make these consumer devices safer and more efficient.
The Klixon YS10 was developed to protect people and property from accidents occuring in hair dryers, fan heaters, and other products.
In addition, the Klixon YS11 was developed to protect people and property from accidents occuring in fan motors, washing machines, and so on. It functions as a self-resetting thermal cut-out (type 2B), thermal motor protector (type 3C) and thermal protector for ballasts.
Circuit breakers
The KLIXON range of precision circuit breakers, are available in single and multi-pole configuration, with thermal and magnetic sensing capability and ratings from 0.5 to 200 amps. Designed for applications in demanding environments where reliability is paramount.
A circuit breaker is an electrical switch designed to protect an electrical circuit from damage caused by an overload or short circuit. Circuit breakers are an essential safety component in any electrical system, from airplanes to cars and for the appliances in your home. For dependable safety and price, choose Klixon and Airpax devices from Sensata.
Sensata offers a wide choice of thermal circuit breakers ideally suited for rugged applications.
Circuit breaker applications:
Ratings from 2 to 200 amps, 30 VDC or 120 VAC
Manual or automatic reset
Switchable version available
Trip-free design
Open construction or environmental seal
Robust construction, trouble free, long life
Ignition protected
Meet applicable SAE and ISO surface vehicle and marine standards
Several UL recognized component listings
Klixon® Aircraft Circuit Breakers
Sensata are are proud to have established the industry standard for quality, reliability, and performance. Sensata Technologies has pioneered virtually every circuit breaker style used today as well as solid–state power controller technology for next generation aircraft.
Sensata offers the broadest range of circuit breakers supporting commercial and military platforms worldwide.
Aircraft Circuit breaker applications:
Power distribution systems on commercial aircraft, military aircraft, and military vehicles
Avionics
Switchable version available
Ground support equipment
Missile launcher systems
Aircraft simulators
Klixon® Thermal / Automotive Circuit Breakers
Dependable in the Most Rugged Conditions.Using a bimetal snap-acting disc as the sensing and actuating element, Klixon thermal circuit breakers feature trouble-free over-current protection for harsh environments. Our broad product line allows design engineers the flexibility to select the circuit breaker that best fits the application.
Thermal / Automotive Circuit Breaker applications:
Wire harness protection for heavy trucks, buses, construction equipment, off-road vehicles and RV's
Accessory and equipment protection for heavy trucks, buses, construction equipment, off-road vehicles and RV's
Circuit protection for lift-gates in trucks
Marine applications requiring ignition protected devices
Harness and equipment protection for Stern Drive marine engines
Over-charging in battery chargers
Battery protection in electric vehicles
Circuit and equipment protection for motor generator sets, portable generators and welding equipment caps
and more…
Electronic Integrated HVAC Control
We offer custom electronic solutions for the HVAC/R equipment manufacturer. With a portfolio of over 100 unique electronic control solutions, we offer a broad product base to fit even the most unique application needs.
We distribute Sensata (formally a division of Texas Instruments) electronic controls for all HVAC/R applications including gas ignition, defrost control, electric heat and fan sequencing, system monitoring, and compressor control and protection.
½" Disc Thermostats
High Power Thermostats
Sealed Thermostats
Strip-Disc Thermostats
Time Delay Relays
Thermal Cutouts
HEATING Controls
Pilot Duty

Gas / Oil Furnaces (US)
Flame Rollout / Vent Safety
Primary / Auxiliary Limit
Appliance
Gas Boilers (EU)

Line Break

Electric Furnaces
Sequencers
Thermal Limit Controls
Supplemental Electric Heat
Duct Heaters – Thermal Limit Controls
Cooling Controls
Pilot Duty

Heat Pump/ Commercial Refrigeration
Defrost Termination
Compressor Discharge Limit
Packaged Commercial Cooling
Evaporator "Freeze Stat"

Line Break

Dehumidifier
Cycle Compressor
Commercial Refrigeration
Defrost Termination
Lighting, Electrical & Thermal Protection
The Sensata (formally a division of Texas Instruments) 7AM series thermostats delivers the maximum protection in the smallest package at an excellent price. It is the most reliable on the market, backed by the leading innovators in protection technology.
Over 3 billion sold
Compact, miniature size
UL, CSA, KEMA (ENEC) approvals
Individually temperature checked on modern, custom-designed equipment
Positive make and break with Klixon snap–action disc
Repeatable temperature performance over life
Gasketed steel case suitable for most impregnation processes
Current and temperature sensitivity for maximum design flexibility and application
Wide selection of leads and insulating sleeves
Electrical and Thermal Protection
Electro-com distribute Sensata Technologies' 7AM – one of the lowest cost, most versatile protection devices on the market. This compact device combines temperature and current into a package designed to protect electric motors, transformers, recessed lighting, fluorescent ballasts, and battery packs. It is available in a wide variety of wire lead configurations, which can be customized for ease of installation.
The 7AM series of protectors offers rechargeable battery-pack protection with Klixon® dual–function over temperature as well as short circuit bimetal protectors that are self–resetting.
The 7AM series are typically used for protecting battery charger outputs and high-current battery packs (ie. Military, UPS). The 7AM can handle up to 16VDC and 20 amps under certain conditions and is available with a wide variety of open temperatures and short circuit sensitivities.
Lighting Protection
The 7AM thermal protector is the world leader for protection in lighting applications. Offering extremely high reliability and performance at an economical cost, the 7AM protector is ideal for fluorescent lighting ballasts, HID ballasts, recessed lighting fixtures, and other lighting products that require protection against overheating.
Motor Protection
The universal 7AM series motor protector is our most popular product, and though it is slightly larger than the 8MM it has a contact rating of up to 22 amps.
Protects against overheating in:
Shaded pole motors
Permanent split capacitor motors
Fluorescent lighting ballasts
HID ballasts
Recessed lighting fixtures
Battery packs
Vacuum cleaners
Washers and dryers
Dishwashers
Transformers
Automotive accessory motors
Solenoids
PC boards
and more…
Motor Controls & Protection
Electro-Com supply a wide range of motor protectors, specified to meet individual customer requirements. Sensata (formally a division of Texas Instruments) has over 75 years experience in the design and manufacture of motor protection devices. Klixon protectors are renowned for their reliability, quality and conformance to worldwide standards.
Why protect motors?
Overheating of motor insulation causes reduction in dieletric strength which can result in motor insulation damage or failure. The following are causes of motor overheating for which Klixon motor portectors can be applied to achieve protection:
Prolonged running overload
Locked rotor–mechanical / electrical failure to start
Low line voltage
High ambient temperature and lack of ventilation
Product Applications
AC off–winding
AC on–winding
Aircraft
Air Conditioners
AC Starter Relay
Automotive
Ballasts
Cable reels
Capacitor Start
Coils
Compressors
Convector Heaters & Dryers
Dehumidifiers
Electricial
Fans
Hair Dryers
Hand Dryers
Home Appliances
Industrial & Commercial Machinery
Moving Air
Pilot Duty
Power Doors
Pumps & Wells
Refrigerators & Freezers
Shaded poles
Single & Three-phase
Solenoids
Small, Compact
Split Capacitors
Split-phase
Starters
Thermal
Thermostats
Transformers
Vending Machines
Water Coolers
Precision Hermetic Pressure Switches
Klixon's range of precision switches are hermetically sealed and designed to provide high reliability in demanding applications and harsh environments. These switches are qualified to military specifications MIL-S-8805.
Klixon's precision hermetic switches have been used for over 40 years in a wide range of applications, and can be found on virtually all commercial and military aircraft, as well as various space vehicles and satellites worldwide.
Klixon hermetic miniature and sub–miniature snap–action switches are ideal for extremely harsh and demanding environments as found in aircraft, military, aerospace, and aircraft engines applications.
Ideal for Extremely Harsh And Demanding Environments:
Hermetically sealed
Excellent shock and vibration resistance
Switching up to 4 amps
Optimal for low level circuits
Temperature range between -275°F and 450°F
Lightweight
30 VDC
Single and multiple pole designs available
Small, axi–symmetric design for robustness and reliability
Various mounting configurations for custom applications
Sealed and unsealed pushbuttons options
Proven, reliable performance and long life
MIL-S-8805 qualification option
Hermetic Pressure Switch applications:
Hermetic switches are used for position indication in applications such as
Aircraft landing gear and helicopter weight-on-wheels
Valve position indication in aircraft engines and APU's
Aircraft environmental control systems and engine controls
Aircraft flight control surfaces
Stores away (munitions)
Door stairway indication
Brake controls
Parachute openers
Bomb racks and ejectors
APUs
Satellite panel indication and satellite arm indication
Pilot ejection seats
Missile launchers
Thrust reversers
Explosive actuators
EVA equipment
IUS platform
Hydraulic / servo controls
Engine valve indication
Gearboxes
Warhead safety circuits
Weapon firing systems and trigger switches
Rocket motor controls
Space station
Industry approvals:
MIL-S-8805
Space Station
Various space, weapons, military and commercial aircraft OEM's
useful links
Precision Hermetic Thermostats
Electro-Com offers a broad selection of styles for all aerospace, satellite, commercial & military aircraft, medical equipment, and HVAC markets. Sensata's Klixon range of precision thermostats are designed for temperature protection or control in harsh environments.
Utilizing a bimetal, snap acting disc as the thermal sensing element, Klixon precision thermostats feature exceptionally high reliability and long life. Standard configurations, probe style packages, or custom packaging can meet most design requirements.
QUALITY SYSTEMS
Sensata Technologies Precision Products quality system is ISO 9000 registered. Additionally, the quality system complies with the inspection system requirements of MIL-I-45208, the quality program requirements of MIL-Q-9858, and the reliability and quality assurance requirements of NASA NHB 5300.4 (IC). Measuring equipment is traceable to the National Bureau of Standards. The calibration system satisfies the requirements of MIL-STD-45662.
Reliable Systems
Small particle cleaning, inspection, and particle impact noise detection (PIND) are available for demanding applications. Residual gas analysis can be performed on hermetically sealed units.
Typical applications include temperature sensing, protection and control for medical equipment, high reliability electronics, radar systems, aircraft refrigeration systems, satellites and missile hydraulics.
Appliances Controls - Fixed Temperature Thermostats
Electro-Com supplies a wide range of bimetallic thermostats designed for temperature control and thermal overload protection.
20433 Series Adjustable Water Heater Thermostat
Australian designed adjustable temperature thermostat based on proven Klixon® bimetallic thermostat technology. Designed specifically for temperature control and over-temperature protection of electric storage water heaters. Conforms to Australian Standard AS3161 and AS1308. Various temperature ratings can be supplied to suit customer requirements.
Please contact us for more information
9925 Series Electric Fry Pan Control Plugs
The original adjustable temperature control for portable cooking appliances based on the famous Klixon 9192 "amplitude" thermostat.
Manufactured to your custom requirements:
Custom decal design
Customer specified calibration
Optional thermal fuse
Flexible cord and plug to suit Australian/European/North American or other requirements
Please contact us for more information
9192 Series Adjustable Thermostat
The original Klixon® 9192 design dates back over 30 years.
Often imitated but never matched in quality or performance!
The 9192 thermostat can be supplied in 110V or 240V format, creep or snap-acting.
Accurately calibrated to your requirements ready for assembly into your appliance.
Please contact us for more information
Solar Photovoltaic (PV) Applications
Solar photovoltaic power generation is changing the way the world gets its electricity. The rapid growth of the solar PV market has created an increased demand for safe, high quality, cost-effective components that can address the special challenges solar PV power plants face. With over 80 years of experience providing trusted electrical protection products to the aerospace, automotive, appliance and other industries, and a more recent focus on solar PV, Sensata is an excellent partner for developing your next solar PV product.